Improve your PDFs' accessibility
Industrialize PDF tagging for greater accessibility
Does your business communication involve a large volume of PDF pages? Respect the law and avoid any discrimination by making your PDFs accessible: payslips, contracts, invoices, delivery notes, reports ....
Digital accessibility does not have to be an obstacle or a constraint. Thanks to our AI, which automates 80% of manual tasks, it becomes a lever for inclusion, allowing you to render the content of your PDFs, regardless of the type of user and their devices.
Tagging your PDFs on an industrial scale has never been easier or faster.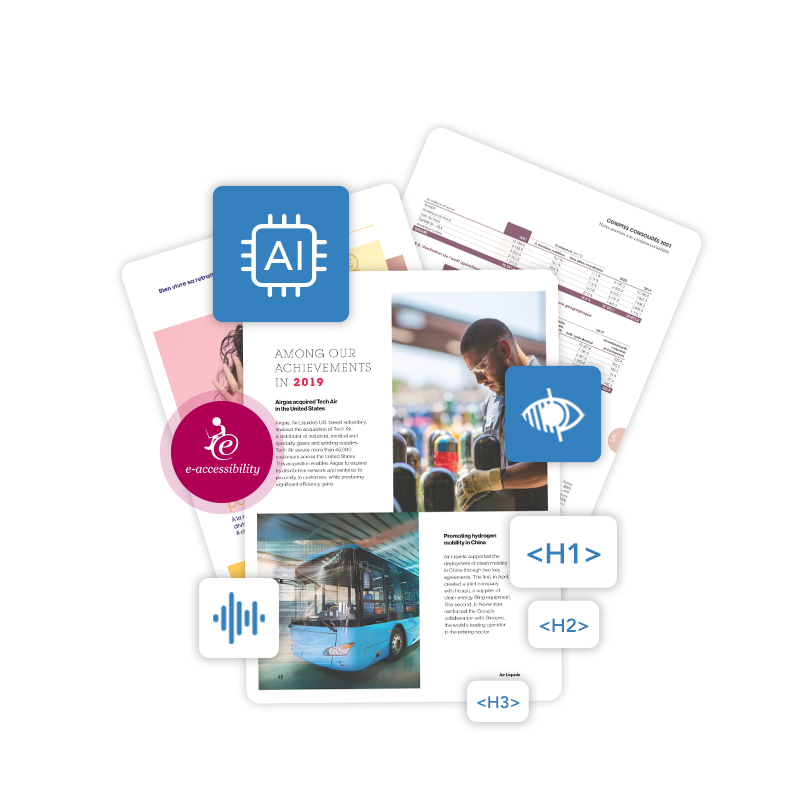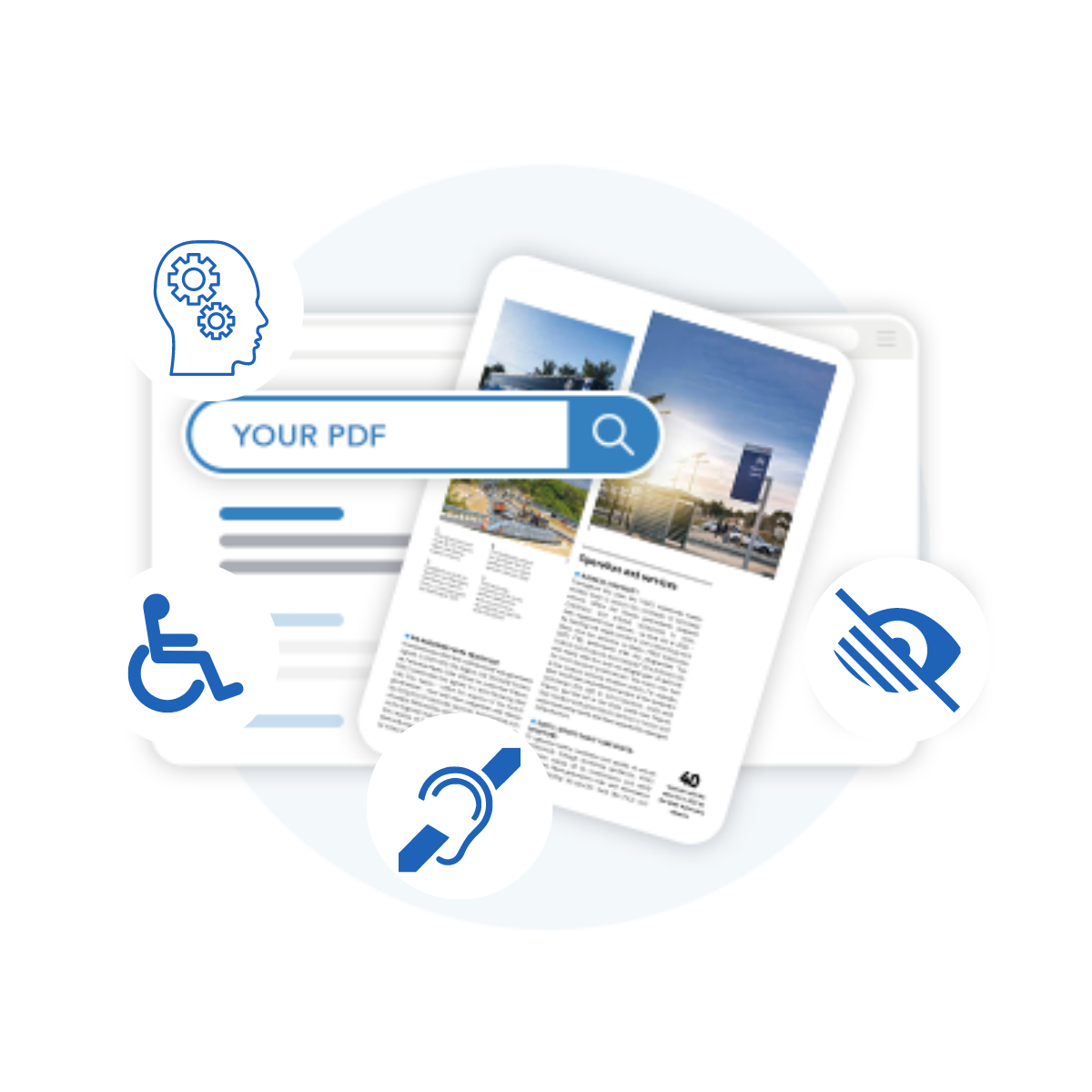 What does digital accessibility mean?
Digital accessibility ("a11y") enables people with disabilities to have access to digital contents and services. In order to do so, international (WCAG), European and national standards exist to avoid any discrimination related to access to information. Each country or state can have is own regulation : USA : ADA, section 508 ; Germany : BITV 2 ; England : Equality Act 2010 ; Québec : SGQRI 008; Australia : Disability Discrimination Act Advisory Notes, Section 5; France : RGAA. And many others.
Why make your documents accessible?
We design PDFs on a daily basis. This convenient format has become the most widely used medium for digital exchange. Allow your internal and external communication to be understood without discrimination.
Address legal and statutory issues
Since the creation of the web, the World Wide Web Consortium (3WC) has established standards and rules to take accessibility into account when designing digital products and services.
Most countries have adopted the Double-A level of these international standards (WCAG 2.1). However, some countries have developed their own accessibility standards and laws with penalties and fines to force public and private services to take them into account.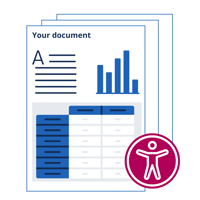 Enable large-scale accessibility
Automating the tagging of your simple PDFs to e-accessible PDFs allows your employees, collaborators, shareholders, investors, customers and other stakeholders with disabilities to access information like any other user without discrimination.
No need to deal with special cases, everyone is affected. By processing your documents in volume, your company will automatically gain readers and attract new talent. This approach also engages the trust and the sympathy capital of your structure, because people feel taken into account and integrated.
A global approach to Corporate Social Responsability
Digital accessibility is part of a global inclusive approach and of your organization's CSR strategy. It is not just a simple "label". These social and ethical issues become a priority. Your documents' accessibility increases the quality logic resulting from the AFNOR 26 000 standard, which provides a framework for the company's social and environmental approach.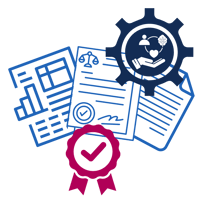 How does it work?
Our AI recognises and structures data so that screen readers and other assistance technologies can access understandable content.
Upload your document
Upload your unstructured documents via a drag and drop interface to our web application or directly to our enterprise API..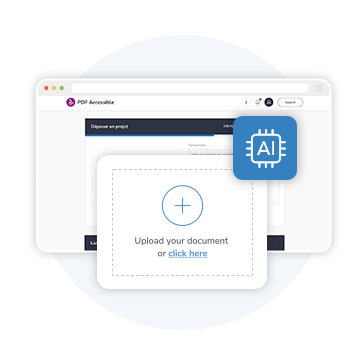 Let our AI work
Our AI can process hundreds of pages in seconds. 80% of the document accessibility will be automated.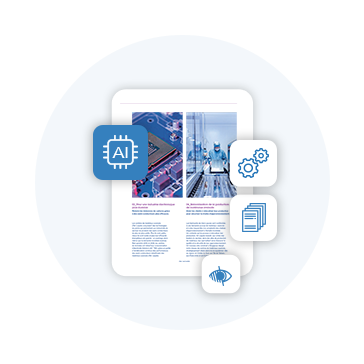 Process your document
You get back a clean PDF, the reading order has been added and XML tags too for structuring the PDF.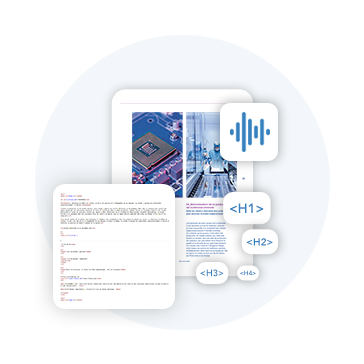 The benefits of our products

90% Time saving
Improve efficiency and save the costs related to manual data entry.

Quality rendering
We guarantee an improved level of structuring of your PDF

Productivity gains
Increase your ROI

Compliant personal data
We are totally respectful and compliant with your data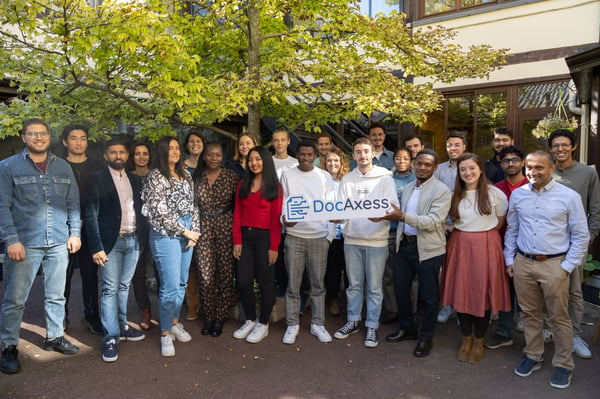 Who are we?
DocAxess, a start-up born in 2020, solves the problems of processing, prioritizing and structuring the data contained in PDFs and office documents, regardless of their use, volume and exploitation.
We have developed cutting-edge technology based on AI that saves time and increases productivity.